Devoted Leaders 2024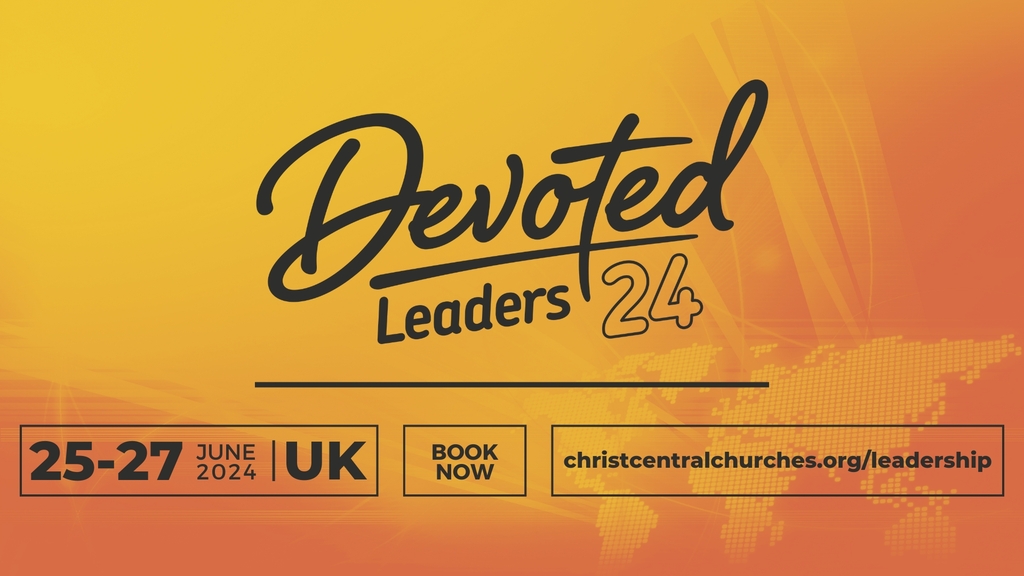 Tuesday, 25 June 9:00am
→ Thursday, 27 June 2024 4:00pm

Kings Church Darlington
About
Let us invite you to join us for our Devoted Leaders 2024 (25-27 June 2024) as we gather 100s of leaders from across the UK and further afield. This will be an in-person conference for church, marketplace and emerging leaders. We're praying for a time of encounter, encouragement and equipping; three things we all need in this season!

One of the reasons ChristCentral exists is to raise up leaders; men and women who can bring leadership in the context God has given them. This may be the local church, in business, or trans-locally serving our wider family of churches.

To do this we know it is vital to gather leaders for extended times of being in God's presence, where there is space for worship, the prophetic and teaching & training. We believe that as we gather together this event will provide a setting where God can speak, shape and re-arrange us as a family of churches.

We hope you are able to join us, see you there!



Jeremy & Ann Simpkins (Conference Hosts)
Dates
25-27 June 2024
Venue Details
Kings Church Darlington, Prospect Pl, Whessoe Rd, Darlington, DL3 0QT
---
Important Information
Timings (TBC)
Tuesday 25 June 2024
Registration opens: 09:00hrs
Conference opens: at 10:30hrs
Ends: 21:30hrs

Wednesday 26 June 2024
Starts: 09:30hrs - Ends: 21:30hrs

Thursday 27 June 2024
Starts: 09:30hrs - Conference Closes: 16:00hrs


More programme details coming soon.
---
Accommodation
Accommodation not included - please book your own accomodation. There are a variety of options in and around Darlington, but please book early to avoid disappointment.

Parking
Ample parking is available on-site, please follow the directions of the event car park staff.

Meals
There are local amenities including: coffee shops, supermarkets and fast food outlets (many less than a mile away). You are welcome to bring a packed lunch with you and remain in the venue or make the most of the outside spaces.

Refreshments
Tea, Coffee and cold drinks will be available throughout the conference during our refreshment breaks. You are welcome to bring a packed lunch with you and remain in the venue or make the most of the outside spaces.

Creche
An unsupervised creche room will be available for parents / carers to use during the event for very young children / babies. We hope to include a main session video link in this area.

Any questions?
If you have a question that we haven't covered here we'd love to hear from you, please get in touch via: info@christcentralchurches.org and we'll do our best to respond as soon as possible.

Why not join us for one of our other training events?
Visit: christcentralchurches.org/events for more details.



---
Cancellation Policy
Please click here to view our cancellation policy.
Consent
ChristCentral collects the information requested in this application form to provide the best experience for you and treats this information with great care. We do not use your information for any other purpose, and we do not sell or give your information to any third party without your consent. We use a number of 3rd party processors to manage bookings for the events which we organise, these include: churchsuite, guestlist.co; eventbrite.com and book-in.me, these processors will hold the data collected for our events.

By completing the registration process you give your consent for ChristCentral to store all the personal information you give us for the purpose of this event.
You may ask us to remove or correct your information at any time, other than information we need to keep for legal obligations or legitimate interest.
Email a Data Protection Request
To check all your individual data protection rights, and how ChristCentral safeguards these, please read our Privacy Policy.
Location
Kings Church Darlington The King's Centre, Prospect Pl, Whessoe Rd, Darlington, DL3 0Q