ChristCentral Leaders Online - November 2023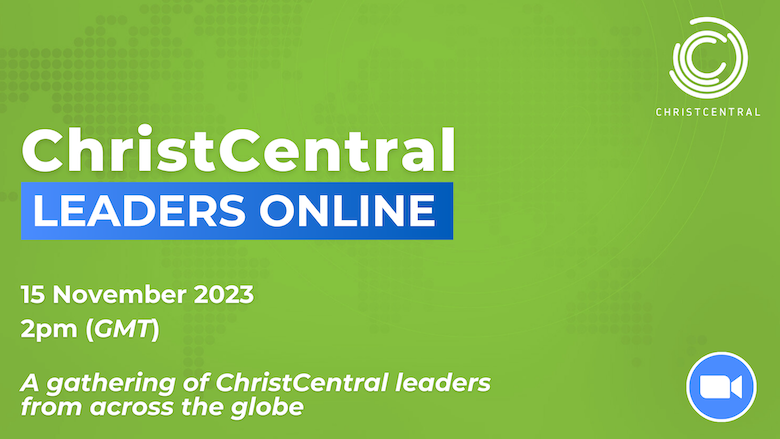 Wednesday, 15 November 2023

2:00pm - 4:00pm

Online - Zoom
About
ChristCentral Leaders Online
Wednesday 15th November 2023
2pm – 4pm UK time (GMT)

Online on Zoom - free of charge
This new event will take place separately from our UK prayer day in October. We aim to gather people from across the nations for a time of worship, teaching and prayer.

So whether you are based in Europe, The Americas, Africa, Asia, Oceania or somewhere in between we'd love you to be with us for this special online gathering.

So if you are part of the leadership team of a ChristCentral church, join us online as we hear updates from various locations and pray together for all that God is doing amongst us as a family of churches.

You must book in to join us for our Zoom session (so we can send you the log in details) but registration is free of charge.


More Details:
This meeting will be hosted using Zoom and you will need a zoom account to join us (free of charge). Once you have registered, the booking system will send you an email containing the Zoom meeting link for our time together but this may not happen immediately.

Creating An Account
If you don't have a Zoom account click here (required).

Using Zoom
For more details about how to use Zoom and an instructional video as well as links for app downloads please click here.


---
Consent
ChristCentral collects the information requested in this application form to provide the best experience for you and treats this information with great care. We do not use your information for any other purpose, and we do not sell or give your information to any third party without your consent. We use a number of 3rd party processors to manage bookings for the events which we organise, these include: guestlist.co; eventbrite.com and book-in.me, these processors will hold the data collected for our events.
By completing the registration process you give your consent for ChristCentral to store all the personal information you give us for the purpose of this event.
You may ask us to remove or correct your information at any time, other than information we need to keep for legal obligations or legitimate interest.
Email a Data Protection Request
To check all your individual data protection rights, and how ChristCentral safeguards these, please read our Privacy Policy.